This article is a part of the #WeAreLogiNext series of articles where we focus on the journeys of people that power the company. 
SaaS is a wide new horizon for people looking to build an ambitious career. Within this, there has been a spike in roles such as customer success engineers. Their main aim is to ensure an improved customer lifecycle, adapt to customer needs, contract renewals, account expansion, and advocacy. Namrata Raut deals with the technical part for implementing customer success and ensuring a smooth flow of the product. In this blog, you will learn more about Namrata Raut, a Senior Customer Success Engineer at LogiNext. Namrata has close to three years of experience ensuring customer success and maintaining a strong connection between the company and clients. 
LN: Tell us about yourself and your role at LogiNext.
NR: I completed my post-graduation diploma in advanced computing in 2019, I chose this field of study because I've always been interested in technology. I am a self-driven person who likes to prepare for the worst, go all-in to achieve the best. Though the end outcome (success/failure) always comes with a 50:50 probability, the one thing that keeps me striving even in a failure is my "never give up" attitude.
Talking about my role – I first started as an Application Support Engineer in 2019 where within a year I was promoted to Senior Customer Success Engineer. Since then, I've always pushed myself to succeed in my capacity every single day. My primary responsibility at Loginext is to assist our clients in using the platform and ensure the smooth flow of the product. While excelling in this technically hard profession, Loginext has given me exposure to critical skills such as leadership and management. I work with a team of 15+ software engineers – customer success engineers, and together we deal with real-time issues for clients daily, resolving them according to our commitments.
LN: How has your time at LogiNext been? Tell us something about your day-to-day life in the office. 
NR: At Loginext, every day is a new day, and the constant appreciation I receive at work has always kept me motivated. The best part is, the management always involves every employee in designing the key strategies which result in better and more efficient workplace growth. The more efficiently you work, the more time you save, which you may put toward personal development, skill advancements, team engagement, and enjoyable hours at cafeterias and team outings. This is what we do; we work hard and celebrate each milestone we reach; everyone is involved in the strategies we discuss, ensuring that everyone's time and skills are fully utilized.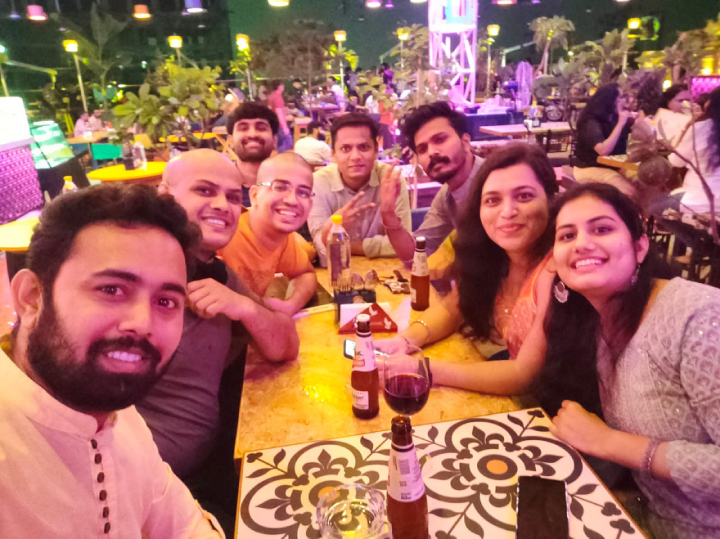 LN: What's the best thing you like about your role? 
NR: Everyone knows that you come to me if you need something done! Nobody wants to do what I do because it takes a lot of time and effort on my part to become everyone's go-to person. I'm fascinated with staying organized so that everyone's lives are made easier, and I'm more focused on the customer side and helping clients succeed. Few things are as important to a company's success as trust and dependability, and I take pride in being a firm believer in both.
LN: Any tips for aspiring professionals in your domain? What has helped you in the journey? 
NR: I'm still learning and working towards my goals, so here are some of the core values that I adhere to. I've always felt that "you're at the table for a reason," so figure out what that reason is and use it to turn the tables to your advantage. It's difficult at first, but with your confidence and determination, anything is achievable. Most of us have heard the sentence "Risk hain to Ishq Hain" from the film "Scam 1992," which means "If you want to know about Ishq (something that gives you a kick in life), you have to go for it."
LN: Tell us something about your personal life. What are your hobbies?
NR: I like to cook (but just vegetarian dishes 😉 ). I make it a point to introduce my family and friends to the best of Indian cuisine; it makes me extremely pleased when they enjoy the food I prepare. Aside from that, I don't read much, but I do enjoy story writing, in which I take some unique and personal experiences and create a story around them, which I then read for myself as I enjoy recollecting the moments or sometimes iterate those for a smaller audience in mind.
LN: Who are your role models within the organization and outside? 
NR: It's difficult for a woman to break the glass ceiling for personal progress, but I've been the fortunate girl who has been able to witness and learn from different women leaders. I would highlight one of those – which is my mother; she is the strongest woman I've ever seen, with extraordinary skills such as balancing between the job and family life as a single parent, and she has made certain that her daughter understands the importance of developing one's own identity as an independent woman. Her self-assurance and capacity to make decisions, even when it goes against society or family, have always impressed me.
With the organization's maximum number of young people on board, individuals must maintain their energy and remain motivated, and when it comes to motivation, our very own Dhruvil is the actual star; he is a source of energy and optimism. As a senior member of the team, I've had the opportunity to work with Dhruvil Sanghvi on several instances, and each time he's been an excellent mentor who inspires others around him to be the best version of themselves. I look forward to learning a lot from him and becoming the finest leader in technology.
LN: If you could change one thing in the world, what would it be? 
NR: I'm the type of woman who has overcome numerous obstacles and accomplished a great deal in a short period. There are still some people in society who believe that educating a girl is of little help and that a woman's dream is futile. I'd like to change that attitude and dedicate my time to guiding such women who are torn between their families and their dreams.
LN: Favourite book, favorite movie?
NR: I'm not a big reader but movies are my favorite pastime and my favorite genres are history and horror films, and I like to keep up with fresh stuff during my #metime. I have recently seen the Marathi film Pawankhind (one of the stories of the Maratha empire), which moved me deeply. The next plan is to watch the Kashmir files, which also have a connection to Indian history.
LN: Tell us something no one knows about you.
NR: I love cleaning, I bet that you've never heard another sane human being utter those words before, right? I don't know what it is, but I love taking something that's dirty and making it clean – I even love folding the clean clothes too! People call it OCD though 😉
Stay tuned to read more stories about those taking LogiNext to the next level!
LogiNext is hiring, join our team!