This article is a part of the #WeAreLogiNext series of articles where we focus on people's journeys that power the company.
There's an old saying: When life gives you lemons, make lemonade. Manish's story at LogiNext is of determination, perseverance, and grit. When Barclays comes knocking at your door with an exciting opportunity, it takes all the guts and conviction to go against every advice and join a start-up that has just begun its journey believing in its glorious future. His love for sales and the want to become a shark motivated him to give his complete focus on taking LogiNext to heights that matched the company's vision. Starting as an intern during his MBA, Manish was soon able to make an impact at LogiNext, which led to Dhruvil Sanghvi (LogiNext's founder) offering him a full-time position after the completion of his two-month internship. With his amazing work ethic and determination, Manish spearheaded several initiatives within LogiNext as part of the founding team over the last 8 years! We are as excited as you are to read about LogiNext's employee #1 and so without further adieu, let's dive into Manish's story!
LN: Take us through your early days at LogiNext.
MP: The first time I learned about LogiNext was during my summer internship interview at the NMIMS while pursuing my MBA in Sales and Marketing. The company was just in the early phase of a start-up, where everyone had the co-founder title. While most companies had just two rounds of interviews, LogiNext, with just two members, then had four rounds! After completing the interviews, I had offers lined up from Barclays and LogiNext, and by now, you know which company I chose to join. Though my internship was for April-May, I joined LogiNext as early as February 2015. The company then had no funds, revenue, or team, and I got the opportunity to work across multiple domains. Soon, my two-month internship ended, but I had an offer from LogiNext to be a full-time employee (this meant leaving my MBA program). Initially, I chose to continue with LogiNext as a part-time employee, but eventually, my MBA became a part-time course as I was working full-time with LogiNext. 
LN: How did your family take the news of you joining LogiNext?
MP: My family was okay with the internship role but not amused at first when I let them know of joining LogiNext as a full-time member. The main reason for this was the considerable student loan I had, as my college was in the tier-1 league in terms of placement and fees. However, during the initial couple of months, we managed to raise a seed round and then close a series A from Paytm, in which I was directly involved with the Paytm team, as they came in first as a potential customer. Later the offer turned out to be different, and it became an investment deal. By this time, I realized there is a product-market fit, the risks were considerably reduced, as we had paying customers and a good amount of funding, and I was able to convince my parents about the sustainability of my role at LogiNext.
LN: The motivation behind choosing LogiNext over Barclays? Were you always a risk-taker?
MP: I came from a conservative background, and therefore had a traditional mindset. I am certainly not a high-risk person for investment, financial options, etc. I never felt that I was taking a huge risk, so there was a conviction in me that I thought LogiNext would grow, though it was just a hunch at the moment. I could relate to the company's vision, had met the founders, and overall I felt that I could add value to this place, and together we can go places. The internship gave me the perfect opportunity to understand the company's work, and Dhruvil helped me envision the roadmap of my role for the next 4-5 years, which resonated with my dreams. 
LN: How has the roadmap panned out over the years?
MP: In a business, you have to commit, promise, and share your vision with customers, sometimes even of things you might not have in the backend. My stay here has helped me realize most of the company's dreams and vision, becoming a reality. I started with a role where-in a company was to be built, there were no sales, and today we have business in millions of ARR, which I was able to see and live through it, which not many get to see, which gives me an extra kick, it's like seeing your baby grow and achieving success.
LN: Since you have worn multiple hats, what's your domain of expertise, and what do you want to develop?
MP: As a founder's curse, you cannot be expected to fit in a specific role. I have always been involved in hiring, where we have almost hired close to 600 folks, and in most hiring results, I might have been involved. I believe for any company to grow, workforce/ talent is important. The second area where I have an influence and where I am being evaluated is sales. Bringing new revenue, focusing on new markets, trying to land and expand, and grow our product with the market vision. We are like the eyes and ears of LogiNext and interact with so many businesses that can help bring in new opportunities. Understanding the market and then aligning our product with the customer needs or changing the customer's business and aligning with the product offered me an extra kick.
LN: Can you tell us more about the hiring culture to be on par with Google and Microsoft?
MP: We always have been picky about hiring as we always believed in staying slim so that we can thrive well with minimum resources who can do 5x or 10x of their capability. But this does not mean that you will be working long hours or that employees have been stretching, as is the case with many other companies currently. The idea is about scaling the business based on the foundation that has been laid; hence it's more strategic than execution. Wanting to reach the heights of Google or Microsoft, you have to have the brand command, which will help you get more customers and employees. Hiring the right talent and acquiring the right customer will help the company grow.
LN: Tips for people within LogiNext or people wanting to join us.
MP: The one thing I tell people joining LogiNext is that it will be a different journey in terms of personal growth. One can become a part of our success story, as I can say that LogiNext will turn into something big and possibly become an IPO, something on the same line which offers an individual a once-in-a-lifetime opportunity to be part of a success story. They can be certain to have their financial growth, learn from the best minds, and make sure they are on track with their career trajectory. You might face some challenging targets and rough deadlines as we are growing 100% year on year. A person starting at LogiNext has to make sure they don't get disheartened or distracted if they don't achieve success immediately. One can grow at their own pace; the only important thing is to add to your value and skill sets, improve your matrix, and not compare with others.
LN: Let's talk about family and your interests
MP: I live in New Delhi with my mom, wife, and an 18-month toddler. For the last two years, during my free time, I have been focusing on my kid and have aligned my hobbies as per his needs. I believe one should not stretch daily and work on oneself to have better productivity every given day. My recent hobbies have been aligned with my toddler, re-living my own childhood through him and understanding how big the commercial market is for baby products. Twinkle Twinkle, Ring-a Ring-a roses have all survived through two pandemics in the last 100 years, is something which amuses me, but then there are some new trendsetters like baby shark and other Cocomelon songs which you have no other option but to listen. While I grow LogiNext, I want to grow my own baby as well. But I can't guarantee 5x growth at the same pace :P!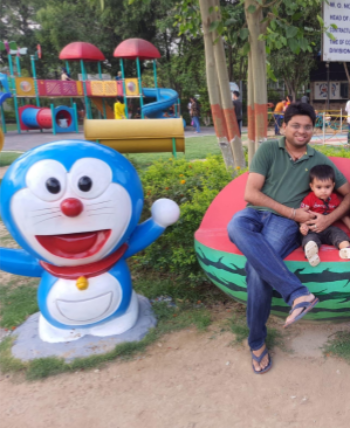 LN: Your role model within and outside the organization
MP: Within the organization, I look up to Mradul Khandelwal and Dhruvil Sanghvi. I am constantly learning from them even after working with them for over 7+ years, they always have an ace up their sleeve. All three of us have lived the same dream, similar journey, and have always consulted each other and had quite a few brainstorming sessions. You don't necessarily have to be inspired by leaders, but learn and grow from your team members and colleagues, as each have their own attribute. Harinath and Rohit are some of the individuals that come to mind that I have tried to inculcate values from colleagues. 
Outside the organization, I have closely observed my father not just in day-to-day life but also in business. He has inspired me the most and has truly shaped me in different ways in terms of being a good father, husband, and a thorough professional. He never used to take time off from work and I have to have taken this attribute wherein personally do not define any boundaries between work and life!
LN: Any advice that has stayed with you or like to give?
MP: I usually give a piece of 4-word advice that states, "Choose the right battle". You will have multiple problems around you, but you must select the right ones to take, as your time is also precious. Don't try to choose all battles and fail or get the additional pressure that might reduce your productivity.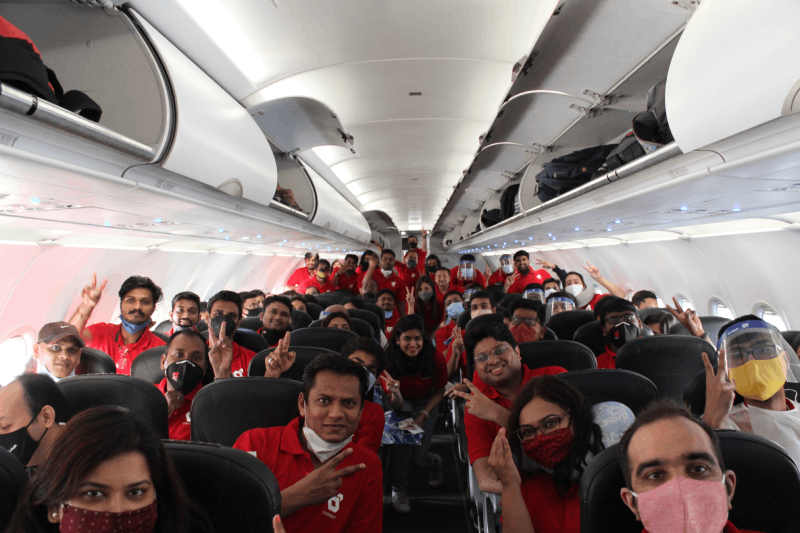 LN: Name your favorite book or tv series.
MP: I am not an avid reader, I usually consume information from newspapers, LinkedIn, and Twitter and watch series/movies on Netflix or Amazon Prime.  The only problem is that once I start consuming, I want to complete it at the earliest, which might take away my precious sleep time. My favorite movie is Shawshank Redemption; it shows persistence and perseverance (a key skill set for anyone who wants to build a career in sales), which will go in my way of living on how you would sustain and survive for a longer duration and grow inch by inch on any given day.
LN: Which is the one superpower that you wish you had? 
MP: I would certainly love to read minds. In sales, it would help to understand if the person would ever buy or not, or what is the problem that the person is facing. However, I would like to have the capability to turn it off when not needed, as reading everyone's mind would indeed not dwell well. This will also help in the proper hiring for the company's betterment. 
LN: What are your best memories at LogiNext? 
MP: My first closure was the best memory at Loginext (you can keep guessing the amount 🙂 ), and now closing deals close to a Million ARR is a highlight.  Raising different rounds, being valued by different investors, and becoming a brand yourself that others will notice. Being modest and humble about our success is the key.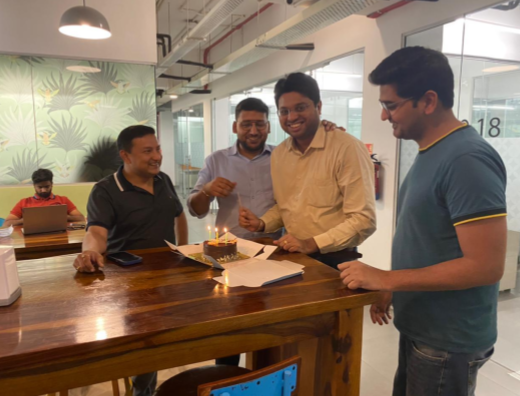 LN: Your LinkedIn profile has a picture with the then President of India, tell us the occasion!
MP: My LinkedIn cover photo with the former president of India is from an award ceremony where I represented LogiNext in the category of growing startups using Learning & Development for 10X growth. We were among the winners after 3 rounds of evaluation wherein I presented how and why we do it.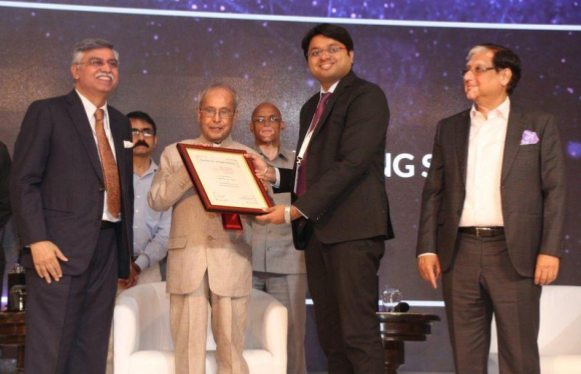 LN: Any secrets that you would like to share? 
MP: Documenting is something I don't like. I always take notes, but structuring the content is something I always keep for the last. I would like to have an AI to get the documentation done after each customer call or interview.
Stay tuned to read more stories about those taking LogiNext to the next level.
We're hiring! Join our team, and be a part of one of the fastest-growing SaaS companies globally.