This article is a part of the #WeAreLogiNext series of articles where we focus on the journeys of people that power the company. 
A product manager is the one that is responsible for organic growth, whether it be related to finding the right market, feature, or product decision. Jithu Prasad not only has his team to thank for the qualified decisions he makes, but they also ensure client requirements are met to expand the product market reach. During his time in LogiNext, one of his most cherished moments is connected to a 62-hour workathon in which he challenged himself to ensure a smooth product launch being a Senior Product Manager. In this blog, we will go through his role, professional tips for being a successful product manager, and some inside stories that are definitely worth a read!
LN: Tell us about yourself and your role at LogiNext.
JP: I'm currently a Senior Product Manager at LogiNext with the Product Excellence Department. I have iterated at almost all platforms of life, I'm an Engineer by Degree, Heart, and Soul. There is nothing better in life that I would do rather than devising solutions for problems and it's the thing that gives me utmost joy. Product management gives me the opportunity to do so. Being an Entrepreneur and Product Consultant before my Role at LogiNext has also helped me have a different perspective on my role and the thought process in how I look at problems coming my way. 
Me and my team, work on building everything that you see at our LogiNext Platforms. It's one of the most fun teams to be in where you get to make a lot of decisions concerning what goes into the product and how it goes into the product and drives the company towards its future and also solves real problems faced by customers. People say Product Management is the toughest role, but, I would say it's the most fun role to be in. It's because you never end up doing the same thing on a day-to-day basis. You can never switch off your brain and go into maintenance mode, you'll always have to be curious and mentally awake to be at your best and be of value. 
LN: The 62-hour work marathon- we spoke about this but add on if you'd like to. 
JP: This was one of the most fun voluntary things I did at LogiNext. Also, I don't promote people doing this and believe it's not stuff to be imitated before I get into what happened. So it has a backstory to it, for a week to 10 days before this I was very sick with fever and zoned out and my team helped by covering up for me and reducing the load on my plate. When I returned, there were certain dependencies on a new initiative that we are soon launching. Being the owner of the product, I was the only one who could deal with it as all of the things that were to be done were in my head. I seldom didn't know that it was the beginning of a "Workathon" as I later coined it.
I came to the office around 7:30 am with a bunch of red bulls (to power the system) that day and the idea was to complete the entire thing before I leave the office. But the process took longer than I expected and before I realized it was me and Dhruvil the last people at the office that day. If I remember right, Dhruvil left the office at 11:30 or 12 that night and he asked me am I not leaving, and I said in a bit I'll. But, I stayed on and I think by that time I had this idea that let's do a work night out. And I was kind of sure that it'll take me the whole night to at least try to finish it and even that would be far-fetched.
I quickly rode back home for a quick bath and came back (so that folks at the office wouldn't find it difficult the next day 😛 ). Had a sleepless night and with all the caffeine in the system, I covered up a lot of ground, but still, there was more ground to cover, towards the wee hours of the 2nd night at the office I had almost covered up my stuff. But by then, I was also seeing how much I can stretch myself and decided to make it 48 before, it was a long time back before I have pulled stuff like this, back in my early startup days. So it was just me checking out how much of that is left with me even today. 
But the funny thing was that, since this was a very unofficial and under the radar thing that I was doing, there were only a few people who knew this and since I didn't want to bring it to the open, I had to do my 3rd day at the office for the normal hours of shift and thus together it came down to 62 hours. 
Apart from all the work that got done, I made a couple of new friends also during this workathon thing, who come to 91springboard late at night for studying and freelance work, etc, you get to know when the fresh milk in the coffee machine goes off and the time frame where only black coffee would be available and also how beautiful the office is with all the white lights off and just the minimal ones on. 91Springboard just looks mesmerizing when it's not overly illuminated.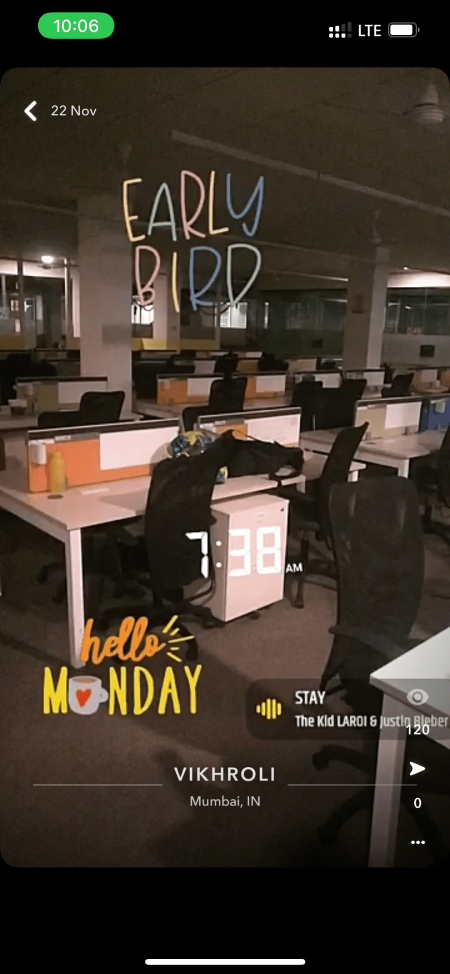 At 62 hours, I had to stop because if not then it'll have to be 84-86 hrs (as this was not a pre-approved workathon) before I can hit home and 62 hrs of not sleeping was hitting my efficacy. But for sure, this was one of the most fun things I have done till now. Though my Manager has asked me not to do stuff like this ahead of. But I can't guarantee that.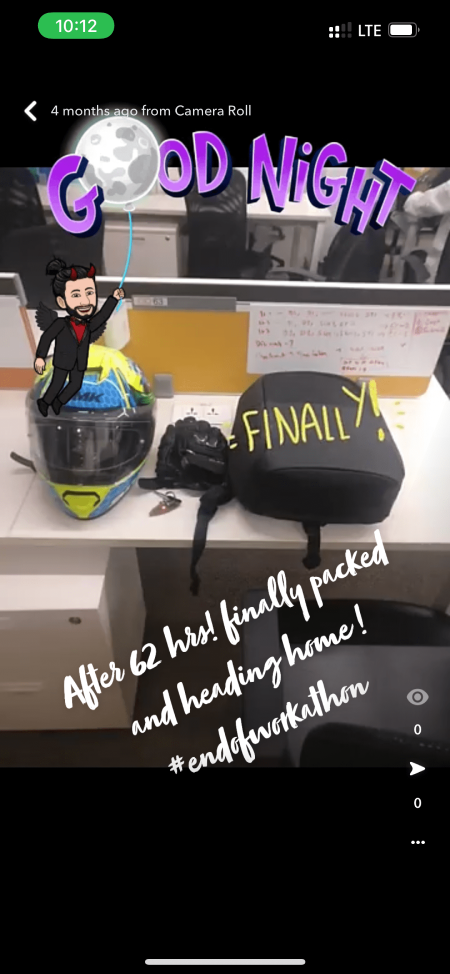 Disclaimer: I don't promote this to any of my colleagues and I don't promote or expect or advise people to do this. I would rather say. Don't do it at all. 
LN: What's the best thing you like about your role? 
JP: The best thing about Product Management is that it's a very creative role. To draw parallels, we can say that PMs are what an Architect is for the Construction Industry. Dreamers. The ability to create unique experiences, unique features, and the freedom to express and solve a problem in a way you like, that's the best thing about Product Management in general. Also, it's not just engineering that you have to understand, in this role you have to understand Finance, Marketing, Design, Business and also be able to understand and empathize with your audience, it's a very peculiar Job in itself as it requires understanding in almost every function of a business. You're the CEO for a small bit and a piece of a product at the minimum if you're a PM. 
For most of the roles in a tech organization, your scope is very defined and limited, but when it comes to PM you have the entire world open for you.  Your role starts right before even a problem is identified because it's your job to identify one. Your job doesn't end when the feature is rolled out for a user, because, it's also your job to understand if a user is using it and what's the adoption rate, what the user feels about the feature,  how can we enhance the feature even more, what else can be done, if a user is not adopting the feature, find out why a user is not adopting it, is it because they lack awareness or because your assumptions were wrong and identify it solve for that. Once the user has adopted it, how to grow it further is the next thought process. So what I'm saying is, you could be working on a single feature for 700 days and not have any of those 700 days similar to another one in it. 
This is exactly what I like about the role of Product Manager. 
LN: Any tips for aspiring professionals in your domain? What has helped you in the journey? 
JP: As I have said before, it's a very challenging and holistic role. It'll put you in a lot of situations where you're not comfortable. If you wish to be a Product Manager, you'll have to be ok with risking asking very dumb questions at times and accepting that you're not the expert in particular areas and sticking to what you're an expert in and incrementally learning that area. It also requires a lot of delegation skills, and it's hard to delegate and not be paranoid about quality, as it's your head on the line. But that'll be the only way you'll be able to achieve success in this role too. 
To break into the sector, the simplest way is to complete a few of the quality courses that are available to get an idea about what all you are signing up for, what the terms such as PRDs, User Story, Roadmap, etc., mean, and how to build/create them for Product Management. The key is to identify a decent course that will truly impart value. There is an umpteen number of courses now online and people who promise to make you a PM in a 3-4 hr session and all. Staying away from them would be the first thing to do. Udacity NanoDegree or Coursera would all be areas where you can find decent material. Also, it's an investment, so make it wisely, not always the cheapest is the best, nor the costliest the best. An alternative to this would be to connect and find a mentor for yourself and learn from them. LinkedIn alone can help you make a great PM. 
Once you have done and got a hang of it. I would say that pick up a couple of problems, build an imaginary product, create everything from the PM angle for it honestly, get it reviewed and repeat the process a couple of times and you should be good enough to start on this journey as a PM or APM. 
I learned product management by being a founder of two companies and I won't say that's the easiest route or best way to PM, though it was very rewarding, the cost was significantly high too :D.
LN: Tell us something about your personal life. What are your hobbies? 
JP: We were a family of four until recently when my sister got married. Now a family of 8 with him and his family too. Hobbies are very scattered, and I don't have any specific one which I do over and over again every weekend. But I can say that a few that I very frequently do are: Bike Rides, Travelling, Hiking, Swimming, Music, Movies, Writing, and Getting to know new people. The one I'm currently engaged in is Bike Trips, Hikes, and Travelling, and have been traveling for almost 5 weekends straight now. On a streak, gotta see how much more it'll go.
The most important things in life are Family and Friends.  Nothing I wouldn't do for both of them.
LN: Who are your role models within the organization and outside? 
JP: Inside the organization, I would pick 
a)

Dhruvil Sanghvi:

Being an ex-Entrepreneur myself, I understand the pain and effort it takes to build a company from the scratch and scale it up to heights that LogiNext has achieved till now. We know that we're just at the beginning of the journey, but I admire how he has built a brand like LogiNext over the years and have immense respect for him for the same. To learn from him how to do it was one of the primary reasons I joined LogiNext too so that I can inspire and adopt his strategies while I start up again somewhere down the lane. Having to respect his schedule and time, I get very minimal.
b)

Pushkar Soni

: Everyone at LogiNext would know why Pushkar is someone you would look up to. His professionalism, calmness, positivity, the way he approaches problems, guides and mentors the team, and his expertise in both Engineering and Product Management. There is a lot to learn from him. Also, I at times feel that we both align a lot in the thought process for the Product. Can't point down to one or two points. Pushkar would be one person I would go to at LogiNext when I have a problem for mentorship, guidance, or advice and someone whose advice I'll take and try implementing just because he said so and there are few people who I respect that much to allow them to have that influence on me. 
c)

Naveen Kumar

:

The methodical and very structured way of Product Management is something to learn from Naveen. The way Naveen dives deep into problems and how he questions our solutions helps a lot in covering and looking at angles of the solutions. A Brilliant Product Mind to look up to at LogiNext. Once you work with Naveen completely on an end-to-end cycle of a story or feature, you can easily make a playbook for how to do Product Management step by step. 
d) Product Team: I couldn't ask for a better team to have as Colleagues and directly be working with. The way the team stands for each other collaborates and helps each other out is commendable. Every one of us is brilliant in our way. All of them help you learn and uncover new things. Will take a line for each of them as they deserve at least that. 
Kanishk Jain: When I plan on the next start-up, he'll be the first person I want on my team, but I'm sure it's not possible because that's how loyal he's to LogiNext. Brilliant, Committed, Passionate, True Professional who would go any stretch to get things done, his commitment is inspirational.  If a story is being handled by Kanishk, well, then don't have to take a look at it again, it's as good as perfectly done. 
Supriya Palande: If you have to learn how to balance life and work together. Learn it from her. Also, the way she gets things done, knows which card to play when, and how to get the desired outcome with minimum intervention. Out and out professional but someone who balances life and work without compromising on her work. 
Shashank Thakur: The product management maturity Shashank has, that too when you realize he's been one only since a year, it's simply wow. An impeccable human being and sheer joy of a person to work with and another mind where his ideas and thought process are so in sync with mine. 
Smrati Pahwa: Zeal to Learn and Pushing herself to newer heights. That would be the easiest way to describe her. Clarity of thought, vision, what she wants, and the willingness to go the extra mile to get things done. Also the ability to juggle multiple responsibilities without cribbing on it but looking at the positive side of it in the learning aspect. 
Outside of work: It'll be Mukesh Ambani for his ability to stay ahead of the curve and find opportunities, Ratan Tata, I don't think anyone can be not be inspired by him if you're a human in general, Kunal Shah for his vision, Donald Trump for playing the audience to his tunes, my Father for his Professional Integrity and Dedication. 
LN: You've been an entrepreneur before, what would you say to aspiring entrepreneurs?  
JP: If there is something more challenging than Product Management, it has to be Entrepreneurship. It's a very challenging journey, but a very rewarding one too. I could go on and on about it, but I'll put in one simple thing, I have heard this misconception alot that as an entrepreneur you're your boss, but the truth is when you are the entrepreneur now even your office boy (if you have the privilege to have one) will be your boss, an employee fighting with his partner is your problem because anything and everything that's happening around your folks would directly impact you. I'm sure all entrepreneurs would be able to relate to this, but if not today, when you get into entrepreneurship you'll understand it. Another thing, as an employee you are making mistakes at someone else's expense, as an entrepreneur, you're paying for others' mistakes too. 
But all this said. It's the most exciting and fulfilling journey to be in and you won't regret doing it for the sheer learning you'll have from it. 
LN: Favourite book, favorite movie? 
JP: Fav Book: Call of the Wild. There are many I have read, but the first name that came into my mind was this. 
Favorite Movie: Can't pick one. It's a ton. Can say my Favourite Genre, which would be SciFi, then followed by Fantasy, Action, Romance, Comedy. Saying that I have cinephilia. 
LN: Tell us something no one knows about you. 
JP: Well, if no one knows, how can I say it here :P. But on a lighter note let's say: "I'm Vengeance" #BGMStarts.
Stay tuned to read more stories about those taking LogiNext to the next level!
LogiNext is hiring, join our team!