This article is a part of the #WeAreLogiNext series of articles where we focus on people's journeys that power the company.
This is the story of Rinkal Keniya and her journey from being a fresher to one of the most talented campaign specialists within LogiNext's marketing team. As is the case with many Indian households, Rinkal, being one of the brilliant students, had to become an engineer. However, within her first year at college, she was clear that she wanted to pursue Marketing. Her natural flair for being an outgoing person also made her a good match for the role. She comes across as being one of the most motivated and positive people in the organization. Here, we get into a conversation with Rinkal to learn more about her journey:
LN: Tell us about yourself and your role at LogiNext.
RK: I have completed my graduation from KJ Somaiya, College of Engineering from the electronics department, and joined LogiNext as a fresher. I am motivated, positive, and always open to exploring new opportunities. One of my best traits is being calm and composed in the most challenging situation.
Speaking about my role, I am assigned as the regional campaign manager. Executing integrated multichannel campaigns with the primary motive to open new business opportunities and reach the right audience with the correct brand positioning is my role.
LN: Tell us something about your day-to-day life in LogiNext.
RK: I have been working with LogiNext for about a year, and I feel fortunate to work on as many live projects, get my hands dirty, and learn new concepts on the fly. The best part of LogiNext is getting real-life projects, which is a motivator, especially after joining as a fresher. I always wanted to get into marketing, and LogiNext provided the perfect platform to start my marketing career.
My day-to-day life in the office has been quite adventurous. There have been new challenges, and finding solutions offers me great satisfaction. With constant learning, I have bonded with the various teams at LogiNext, which has helped me evolve exponentially. Working with Dhruvil Sanghvi, CEO of LogiNext, and getting feedback from him is undoubtedly the plus point here at LogiNext.
LN: What's the best thing you like about your role?
RK: The marketing team is the face of any company. As the first touchpoint of a B2B organization, it is also a place of immense responsibility. I take pride in being in a group that opens up opportunities for the business.
Another point that I would like to highlight would be that my work is not limited to just my role. I have been responsible for handling several events and have been given opportunities in multiple domains across various teams. LogiNext has offered me this opportunity to explore numerous aspects of marketing and not be fixed to a streamlined process. This has helped me understand the product better and know the vision and mission of the organization.
LN: You joined as a fresher straight from college; what would be your advice to other freshers?
RK: As freshers, we come with the mindset that we should only get things done that are assigned to us or told to be done. One should avoid such a mindset as it would limit growth opportunities. Absorbing like a sponge, grasping knowledge from all corners is a must. Communicating with teammates and colleagues from different sections will help to expand your product knowledge.
Keeping an open mind, and broadening perspectives, will lead to faster growth within the organization. The second most important thing is patience and believing in what you do. I have learned that not all processes will give you exact outcomes but will help you get one step closer to your goal.
LN: Tell us something about your personal life. What are your hobbies?
RK: You will always find me with a smile on my face. I am a very social person and believe in giving back to society. I have been part of four NGOs for the past five years. Apart from this, I also love baking, cooking, and painting. Baking is something I can do day in and day out.
LN: Who are your role models within the organization and outside?
RK: I believe that each individual has something that one can look up to. Within my first year on the job, I have learned a lot and still learning from leaders like Dhruvil Sanghvi, Mradul Khandelwal, and Keyur Shah. My team has many gems which I look up to in my day-to-day life. Kush, Samarth, Jubin, Himangshu, Vivek, and Onkar are a team full of energy, positivity, and determination. It wouldn't be wrong to say that these people motivate me to do more good work. Kudos to the marketing team!!
Outside of the organization, that would be none other than my mom. She is my true role model. Being a homemaker, she has the best knowledge and understanding of all that is going around. Her skills are something that I would love to pick upon to have overall growth in all aspects of life. #respect
LN: If you could change one thing in the world, what would it be? 🙂
RK: It may sound cliche, but I would like to change how women should put in those extra efforts to balance their lives. Even though we are in 2022, I know many women who still face hardships daily. Finding the right balance between house and work is still something most women haven't conquered. I would like to ensure that no woman would have to put in the extra effort to find the right balance.
LN: Tell us something no one knows about you.
RK: Only a few people know this, but yes, I am a kickboxing champion. Well, now you know who to not mess around with! As we call it 'Ziddi' in Hindi (persistent), I am one of those kinds, who will strive hard and get what I want. Be it personal, work, or social life, I make sure to complete something I have picked up. (Which includes winning an argument as well.)
LN: What would be your funniest moment in LogiNext?
RK: Well, the funniest moment would undoubtedly be hearing someone else talking while your meeting progresses. Sorry Chinar, but I have listened to some fantastic sales talk while in a meeting.
LN: Who would you be, the funniest or the smartest in the room?
RK: Being the funniest in the room would hands-down be my option. Even the smartest in the room can be fooled, but being the funniest matches my personality trait. I would instead enjoy being in a good banter rather than be the person who is being picked upon.
LN: What are some of your key takeaways from various life situations?
RK: Though it's just the start of my journey in LogiNext, one of the best lessons is not to overinvest in your work. You might get too emotionally connected to mess up your work if you overinvest. Another thing, especially for freshers, to keep in mind is not to think about what others would think of you or your work. It's easier said than done, but in the corporate world, people mind their work and want the work completed without judging the capabilities of others.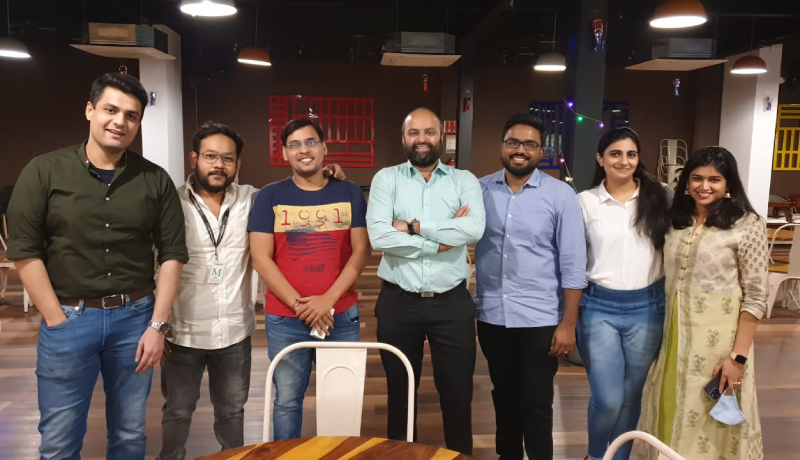 Being open-minded and doing what you feel is right is something that I have learned the hard way! It has been a great journey with LogiNext till now and I look forward to the coming times!
Stay tuned to read more stories about those taking LogiNext to the next level. 
We're hiring! Join our team, and be a part of one of the fastest-growing SaaS companies globally.