Incorporating technology into a business has become the need for the hour! Whether you have a traditional restaurant, Quick Service Restaurant (QSR) chain, or a dark kitchen, delivering a great customer experience remains a fundamental need. The pandemic has led to a rise in online food ordering, which necessitates businesses to have their website or app to take customer orders or tie up with third-party carriers for food deliveries. With the trend of online food ordering unlikely to change, let's dive into how food delivery software like LogiNext can ensure your customers get a seamless food ordering and delivery experience.
Managing your orders becomes easier:
You need to juggle and view multiple parameters like distance, driver and vehicle availability, transaction type, etc which manage the order. Having a one-stop screen that shows all your order details in real-time is a big plus. The order section would have details like when the order was generated, order number, payment mode, number of items ordered, name of the delivery associate, total order cost, delivery address, etc. 
Data for assigned deliveries, unassigned delivery, in-transit delivery, orders completed, orders attempted, and orders canceled can be displayed to the store manager on a real-time basis. The store manager can even select a date range on which the deliveries were made or are due the next week to keep track of all the orders received at the branch. 
Our delivery software can even sort the orders based on the order number, order branch, status, date, origin, destination, delivery associates, etc. 
Making use of your data:
With a food delivery software, you (as a restaurant owner) can ensure to get data of your delivery associates (driver tracking) that can include details like total deliveries received, orders completed, orders delayed, your delivery associate status, total vehicles (availability, in-transit), delivery associate battery status to ensure communication link is maintained. 
This would help the store owner hire the correct number of delivery associates to manage their food delivery needs, offering maximum efficiency to its driver's fleet. If you own a QSR chain, you can allocate your drivers per branch requirements. 
Driver allocation is no longer a hassle:
Having a complete view of your drivers is essential to ensure proper delivery allocation of orders per requirements, and have crucial driver information like license, registration papers, pollution, insurance, and other certificates, etc. At LogiNext, we can help easily update your driver information using forms, Excel and API. One can easily add their 3rd party carrier details from their fleet management system using API. 
LogiNext's restaurant delivery software can help with auto-assignment and scheduled pick-up for drivers and carriers. You can also read our article on choosing between an in-house fleet or an outsourced fleet for last mile deliveries.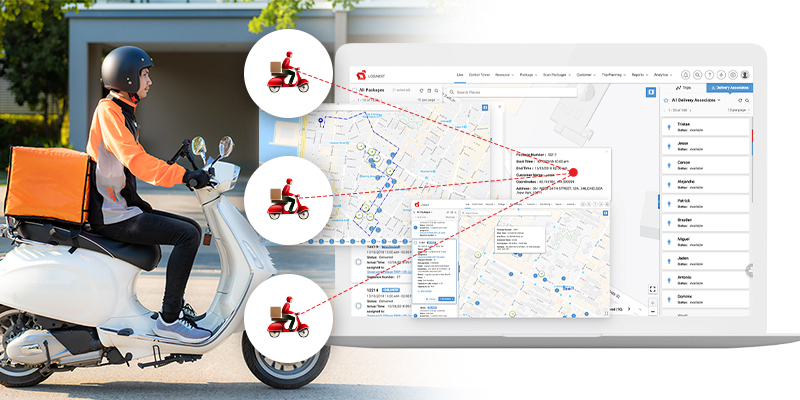 A restaurant can get the option to customize their driver allocation based on pick-up and delivery time window, future time window, and order preparation time. 
If you use third-party carriers for deliveries, you can prioritize assigning orders to delivery associates based on driver behavior. A store manager can also assign drivers based on skill sets offered, for example, cold storage requirements, faster deliveries, etc.
Get real-time/ Live order tracking and updates:
The dispatcher's portal will allow you to track your orders and delivery associates in real-time. The use of the driver app will give drivers an added advantage to get their deliveries made and alert store owners of their availability, breaktime, etc., to avoid assignment of orders during leaves and breaks.  
The driver app also showcases the list of orders, trip summary, order transfers, ability to accept and reject orders, payment for delivery, driver leaderboard, etc. The driver can also communicate with customers to give messages about their delivery status, ETA, chat about their delivery location, or other order details.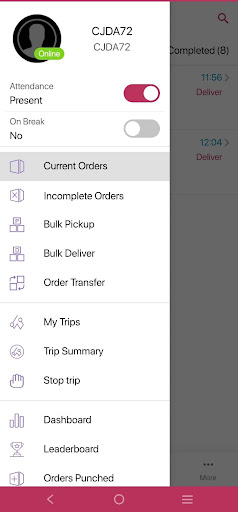 Ensuring electronic proof of delivery is another feature that drivers have access to where they can collect a customer's signature and photo and make payments via cash, card, or an online gateway.
Route optimization:
Route optimization plays a vital role in last mile delivery. LogiNext's food delivery software has helped clients improve their last mile delivery efficiency by 140%.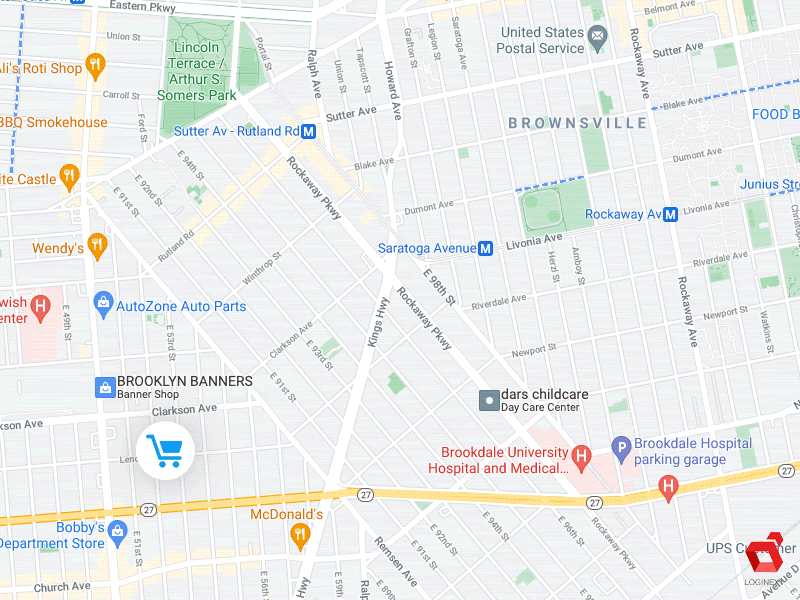 Geocoding enables us to avoid wrong deliveries and better route planning, enhancing the customer's order delivery experience. Drivers can be easily assigned as per their locations, and orders can be picked from the nearest branch/hub to get the deliveries done at the earliest.
Easy integration:
LogiNext's food delivery software can help integrate with
Customer Relationship Management (CRM)

Order Management System (OMS)

Enterprise Resource Planning (ERP)

Transportation Management System (TMS)

Warehouse Management Software (WMS)

Field Service Management (FSM)

Payments

Email

Maps

SMS

Hardware

Cloud services
This will help with the easy handling of orders, enhance driver utilization and improve customer experience. Our delivery software has covered all essential parameters for unparalleled last mile delivery services.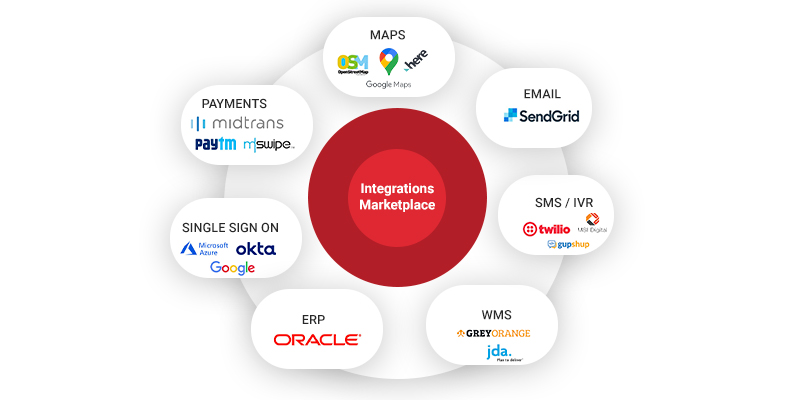 Customer feedback on food quality and delivery associate:
Once the delivery is completed, the customer can give feedback about the food in the form of ratings, additional comments, delivery associate feedback, etc., which will help you improve your customer experience, and match the driver's as per skillsets for future order deliveries.
Enhance brand value:
As communication with your customers is the key, LogiNext can help build your branding by adding your company name, logo, and essential criteria for push notifications. 
The platform also helps add promotional offers, which could be sent to customers via SMS or email based on their previous purchases. This will help in brand promotion and improve customer loyalty toward your restaurant.
LogiNext's food delivery software can help restaurants with critical pain points such as real-time visibility, route optimization, electronic proof of delivery, driver crowdsourcing, and driver performance management. With the ability to manage your food deliveries in a single dashboard, food delivery software is a must for companies to ensure smooth functioning.