It's that time of the year again! Celebrations, online shopping, festivities, family dinners and more online shopping! 
The Chinese New Year on February 1 will ring in the Year of the Tiger (the Chinese calendar is based on 12 zodiac animals). Apart from China, The Chinese New Year is celebrated in several South East Asian countries like Singapore, Malaysia, Thailand, Taiwan, South Korea and the Chinese Diaspora across the globe.
Typically, it is a two week celebration period which is marked by ceremonies like: Family dinners, putting up Spring Couplets, giving red envelopes (lucky money) to kids, lantern festival, lion dance,  and in the modern times, a lot of online shopping. 
Amidst all the celebrations, from a retailer's perspective, commerce is the common underlying activity. Be it shopping for new clothes or furniture, ordering food online or last minute home delivery of groceries, there is a huge peak in online orders  for retailers. A predominantly offline festival, the pandemic forced a majority of the shopping online and it has led to several challenges for retail enterprises. 
(read more: ASEAN countries rapidly adopting SaaS Logistics Management Solution)
And when a brand has to function at max capacity  with a limited number of resources, there are several constraints  that needs to be addressed quickly:
One of the biggest challenges that is exacerbated during the Chinese New Year is the shortage of drivers (What's the biggest kink in America's supply chain? Shortage of drivers). The number of orders increases and the number of riders reduce during this time owing to the fact that a lot of drivers take leave to celebrate the festival with their families during this time. The only viable solution to this is smarter resource utilization and ensuring the improved efficiency  from the available riders through the use of technology. More on this later. 
A related challenge is for enterprise retailers to build processes which can accommodate fluctuation in order volumes. On a regular time of the year, this comes in during weekends. In times like the CNY, this challenge is multifold! How does one predict what kind of orders will come in more? And from where? How many delivery riders need to be employed so that there is no problem during lean periods as well? How does one take in orders from the numerous online and offline channels and funnel it to one dashboard? All these are logistical challenges that a retailer needs to handle. 
The Chinese New Year is no longer just for the APAC market. With a wide Chinese Diaspora spread globally,, the festival is celebrated across the world. The above is an image of the CNY celebration in New York, USA. For retailers, it is a challenge to understand the nuances and portray their products accordingly. For instance, a western brand needs to contextualize and send relevant messaging catered to a particular audience to ensure a seamless experience for all demographics. 
To tackle the above challenges, LogiNext has built a highly configurable SaaS solution which can be white labelled and used by brands to optimize and automate delivery management, have complete visibility over their logistical operations, manage delivery drivers efficiently and provide a highly customized and modern end customer experience. 
One of the prime offerings of the LogiNext Mile platform is the delivery driver app via which an enterprise has the ability to keep a tab on the overall delivery operations. And not just management, the platform comes with features like advanced route optimization, route planning and automated order allocation through which the maximum can be achieved in the available resources. For instance, if a retailer needs to make 5,000 deliveries in a day with 300 riders available, what is the best way in which drivers can be allocated orders? In which route should they be delivering? How to check whether they are adhering to the routes? How to ensure low contact delivery via e-signatures? All this is made possible with the LogiNext SaaS platform. 
A lot of these challenges come down to proper inventory management as well. Some of the LogiNext features like 3d packing optimization, bulk order pickup and delivery batching ensures that there is alignment in terms of the supply chain. In a B2B fulfilment scenario, a truck would be loaded in the most efficient manner and bulk orders would be batched in a way that they require less number of delivery vehicles. These points also help in optimizing the number of drivers required and further reduces the problem of driver shortages.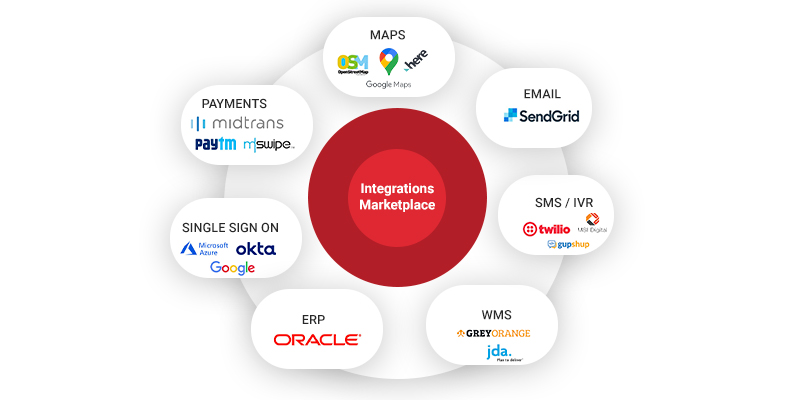 LogiNext comes with more than 100 technology integrations which make it easier for an enterprise to go live in a matter of hours. You may be using any existing tech system or maybe several older systems but with the integration marketplace, an enterprise has the ability to make it all work seamlessly with the LogiNext platform. 
On top of this, LogiNext is a white labelled solution which means a brand can have its own logo and branding in all communication that goes out to the end customer. At the end of the day it is about giving the best end customer experience so that customer loyalty is built and results in higher revenues for the company. Tracking URLs which go out to the end customer, offers and discounts notifications during events like Chinese New Year and the entire feel of a modern UI/UX is what is expected by the end customer and via white labeling, a brand can enable all of this through LogiNext.